18 October 2012
Visions of Our Past and Future
A Vision to Avoid Demolition for a '70s Pioneer
[Via the New York Times]
CHICAGO — A familiar sort of preservation battle has been stewing for months here over the fate of the old Prentice Women's Hospital, a concrete, cloverleaf structure from 1975 by Bertrand Goldberg, the Chicago architect. It's a groundbreaking, wonderful oddball among the architectural monuments in this city. High-profile designers like Frank Gehry, Jeanne Gang, Tod Williams and Billie Tsien have signed petitions entreating Northwestern University, which owns the building, not to tear it down, arguing for landmark status and pleading for Mayor Rahm Emanuel to step in.
The university says it needs new biomedical research facilities and that Prentice is too small, old and quirky to feasibly retrofit. A new building, the university argues, would bring to the city millions of investment dollars, create jobs and save lives.
No surprise, Northwestern has been winning the debate. On Monday Brendan Reilly, an alderman representing the Chicago ward that includes Prentice, announced that he was leaning toward demolition. "I remain open to suggestions," he added, according to The Chicago Tribune. "And believe me, if there's a eureka moment, I'm all ears."
So here is a suggestion: Build a research tower on top of Prentice.
….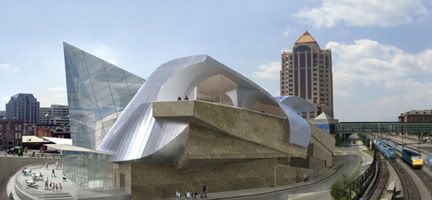 Taubman says Art Museum won't Fail
[Via the Roanoke Times]
ROANOKE — The [Randall Stout Designed] Taubman Museum of Art's biggest financial supporter said he and the museum's new board of directors won't let the struggling museum fail.
"We're not going to let the place go broke," said Nick Taubman, who on Monday took command as board chairman of the institution that bears his family's name.
To that effect, the former Advance Auto Parts president and CEO and the new board, which includes Medical Facilities of America Chairman Heywood Fralin and other business leaders, have infused the cash-strapped museum with about $1.5million to help it cover operating costs for the rest of the year.
And Taubman said Tuesday that the arrangement will continue as long as it needs to. The museum's annual budget is about $3.4million.
Monday also brought the news that Taubman President and CEO David Mickenberg had stepped down, leaving people in the arts community wondering how the museum will change. Hired in September 2009, when the museum had already resorted to layoffs after being open less than a year, he pushed for the museum to reinvent itself as a regional art center rather than an international tourist draw.
…